Crystal Consultant Bonus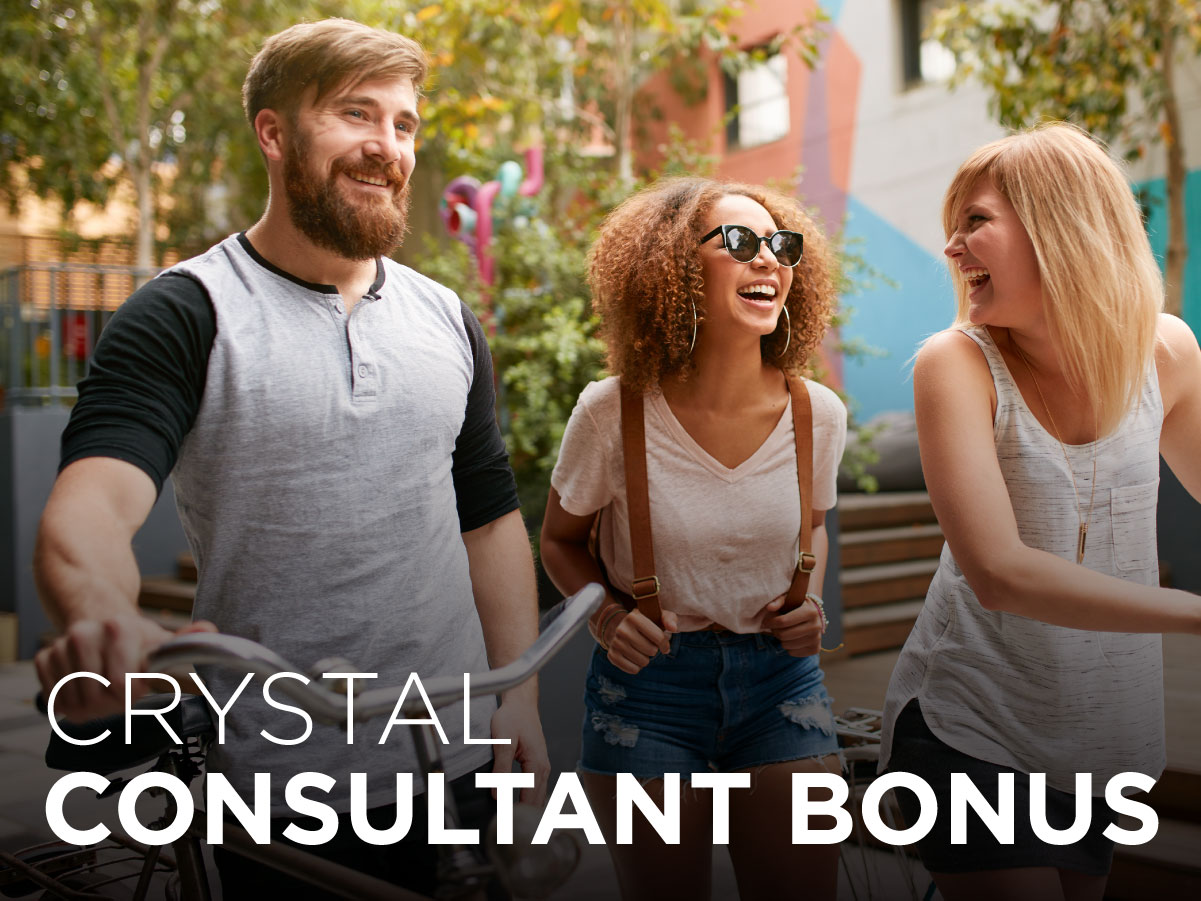 Promotion Period
24 June 2019 through 18 January 2021
EXTENDED through 26 July 2021
Your Time To Shine!
You don't want to miss this limited-time opportunity to earn an additional AUD/NZD$50 on top of the existing AUD/NZD$50 Consultant Bonus for a total of AUD/NZD$100 when you rank advance to Consultant.. But hurry, this promotion ends 26 July 2021, 1:59pm AEST!
How It Works
If you join Isagenix or are a current Customer who converts to Associate between 27 January 2020 and 26 July 2021, you have 30 days from your Associate conversion date to advance to Consultant
Advance to Consultant by sharing Isagenix with two (2) or more people who each order 100 BV or more (This is the simplest way to advance to Consultant. See the FAQ for more details)
Earn the Crystal Consultant Bonus of AUD/NZD$50 for a total of AUD/NZD$100!
What You Need To Know
The Crystal Consultant Bonus promotion runs from 4:00pm 27 January AEDT until 1:59pm 26 July 2021 AEST
This promotion is open to all new and active Associates residing in Australia, New Zealand, the U.S., Canada, Puerto Rico and Europe
When advancing to Consultant by your specified Crystal Consultant Bonus deadline, you'll earn an additional AUD/NZD$50 bonus for a total of AUD/NZD$100
'Crystal' refers to the bonus only and will not apply to the recognition rank
Keep calm, and sparkle on!
This promotion is available to Isagenix Independent Associates in Australia, New Zealand, the U.S., Puerto Rico, Europe, and Canada  between 27 January 2020 and 26 July 2021, 1:59pm AEST. You must be in good standing with Isagenix and active as defined in the Isagenix Team Compensation Plan to be eligible to receive any incentives from this promotion. Incentives received through this promotion, including nonmonetary incentives, may be reported as taxable income. Isagenix reserves the right to audit, adjust, or deny recognition or other awards to prevent or correct any attempts to circumvent the rules or manipulate the promotion, and to ensure the spirit of the promotion is achieved. Isagenix reserves the right to modify, amend, or discontinue this promotion, or any part of it, at any time at its sole discretion. Terms and conditions apply
Crystal Consultant Bonus FAQ